Our flexible and reactive team is well recognized in the fields of business and criminal litigation for its very high level of services (Legal 500, Chambers, Best Lawyers,Décideurs...), its human scale and specific listening ability.
Complex litigation is our specialty.
READ MORE
Sum and substance on one page
COURRÉGÉ FOREMAN
Feedback
La boutique de contentieux et de droit pénal Courrégé-Foreman est en charge d'un prestigieux volant d'affaires pour le compte de grandes entreprises. Le cabinet est notamment réputé pour sa grande expertise appliquée aux domaines de l'industrie et de l'aéronautique. Il se voit régulièrement mandater dans des dossiers de premier plan par une clientèle de premier rang.
*
(
Legal 500
, 2020)
The lawyers are further commended for their "very good strategic understanding of the cases" and are reportedly "easy to collaborate with".
(
Chambers
, 2017)
* White-collar and litigation boutique Courrégé-Foreman manages an impressive caseload and is entrusted by many leading companies. The firm has a strong presence in the aviation and industrial sector where it acts for high-profile corporations.
Commercial disputes
company law
Preventing and handling pre-conflictual situations is always preferable to litigation.
Read more
Criminal litigation
white collar crime
We feel it inconceivable to be a lawyer today without also being a criminal law expert.
Read more
Industrial accidents
crises and catastrophes
We experienced it from the inside: our society not only wants to find out who bears responsibility but also wants culprits to blame.
Read more
Our lawyers have gained particular recognition in this area over the past 20 years.
Read more
Reactivity and quickness are the key words for protecting the reputations of companies and individuals in the digital era.
Read more
Intellectual property
rights
Intellectual property rights of individuals or companies are precious yet fragile assets that can only be protected by law.
Read more
Public Health
and liability
From the assessment of the risk-benefit ratio to the compliance of care to the state of the art, health care actors are constantly subject […]
Read more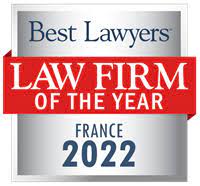 Best Lawyers – Law Firm of the Year 2022
Courrégé Foreman is elected Law Firm of the Year by Best Lawyers in Aviation Law.
READ MORE